Hello,
I know this issue has been discussed several times, but none of the solutions work for me.
I've set up my VPS on Linode, boringproxy is running there as a systemd service. Everything works there, including the boringproxy admin dashboard.
Now I'm trying to test the client side. My PC appears in the client list on the dashboard, I can easily create a tunnel, but when the tunnel is created, the client outputs these lines:
2023/01/09 15:18:43 SyncTunnels
2023/01/09 15:18:43 New tunnel cloud.pervoj.cz
2023/01/09 15:18:43 BoreTunnel cloud.pervoj.cz
2023/01/09 15:18:43 BoreTunnel error:  Failed to dial: ssh: handshake failed: ssh: unable to authenticate, attempted methods [none publickey], no supported methods remain

Server doesn't output anything until I try to open the domain in browser, then it prints this error:
2023/01/09 15:19:12 dial tcp [::1]:46059: connect: connection refused

And browser prints the same:

Here is the tunnel configuration: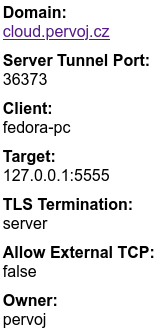 I tried logging in from the private key file with this command:
ssh -v -i id_rsa -R 127.0.0.1:44655:127.0.0.1:8000 pervoj@cloud.pervoj.cz

Again, everything works.
I use OpenSSH version 8.8 on both server an client.